Join Possibilities Calgary Bi+ Community for a panel discussion on visibility and care for Bi+ Visibility Week.
In this discussion, we'll talk about what it means to be visible as bisexual/pansexual/asexual/queer folks, what makes it possible to feel seen, how we work at seeing each other, and how we care for ourselves and each other.
This panel will take place on September 19, 2020 from 1-2:30 pm mountain time. It will be hosted in GoToMeeting.
Register by emailing me for the link.
Our panelists are:
Osden
Sheri Osden Nault is an artist of Michif and mixed European descent, whose art practice and research are grounded in queer, feminist, and Indigenous world-views. Osden lives in Tkaronto on the traditional territory of the Haudenosaunee, Wendat, and Mississaugas of the Credit First Nations, under the Dish with One Spoon Wampum Belt Covenant, which precedes colonial treaties on this land. Through their work they strive to elicit a sense of social and ecological responsibility to one another on a damaged planet. 
Jane
M. Jane Colette writes tragedy for those who like to laugh, comedy for the melancholy, and erotica for lovers who like their fantasies real. She believes rules and hearts were made to be broken—ditto the constraints of genres. Her flirty-funny-occasionally filthy novels include Tell Me, Consequences (of defensive adultery), Cherry Pie Cure, Text Me, Cupid, and the Cupid in Monte Carlo trilogy. She's also the curator of the YYC Queer Writers' fabulous anthologies Screw Chocolate, Screw Chocolate 2, Queer Christmas in Cowtown, and A Queer Summer Night in Cowtown. Ask her to send you love letters at mjanecolette.com/loveletters, talk to her in pictures at @mjanecolette, or tell her your story at TellMe@mjanecolette.com. Her alter-ego is a provocative legal affairs/business writer and journalism instructor.
Crystal 
Crystal (she/her) is a Queer, fat member of the community. By day, she is a nurse that works at the intersection of mental health and the law. In the evenings she is a yoga teacher certified in Trauma Sensitive Yoga from the Centre of Trauma and Embodiment. She also volunteers as a film programmer for the Fairytales Queer Film Festival, and loves to spend time playing with her niblings. Her partner Kalem (he/him) started decorating their yard for Pride in the early 2010s, and each year the decorations seem to get a little bit bigger! While at first glance, Crystal and Kalem might appear to be a cishet couple, they are both fiercely Queer and love queering their yard for Pride! Crystal is excited to share the story of how their "Pride Yard" came to be, and the positive responses they have received.
Pedrom
Pedrom Nasiri is a doctoral student in the Department of Sociology, at the University of Calgary. Their doctoral research examines the increasing prevalence of multiple-partner families in Canada, and their intersections with ongoing racial, gender, and class formation projects. They are the co-founder of the organisation PolyamQ: Calgary's Queer + Polyamorous Community, a published author on the intersections of race, gender, law, family, and sexuality, and a social justice advocate.
---
We will be asking questions like:
What is important to you about bi+ visibility? 
What do you want folks outside of bi+ communities to know about us; how do you want to be seen?
Visibility includes both seeing and being seen, and this means that in addition to working towards bi+ visibility in monosexual spaces, we also need to work on 'seeing' the members of our own communities who are at other intersections. What intersections feel important to you to highlight for within our bi+ communities? 
What might care, both for our communities and within our communities, look like?
---
There's no cost to participate, and if you want to participate from outside of Calgary, you are welcome!
We have a focus on community care and narrative discussions for the bi+ community (bisexual, pansexual, asexual, two-spirit, with an intentional focus on trans inclusion).
This is an intentionally queer, feminist, anti-oppressive space. The discussion is open to all genders and orientations, as well as all abilities, educational levels, classes, body types, ethnicities – basically, if you're a person, you're welcome!
These discussions take place on Treaty 7 land, and the traditional territories of the Blackfoot, Siksika, Piikuni, Kainai, Tsuutina, and Stoney Nakoda First Nations, including Chiniki, Bearspaw, and Wesley First Nation. This land is also home to Métis Nation of Alberta, Region 3.
---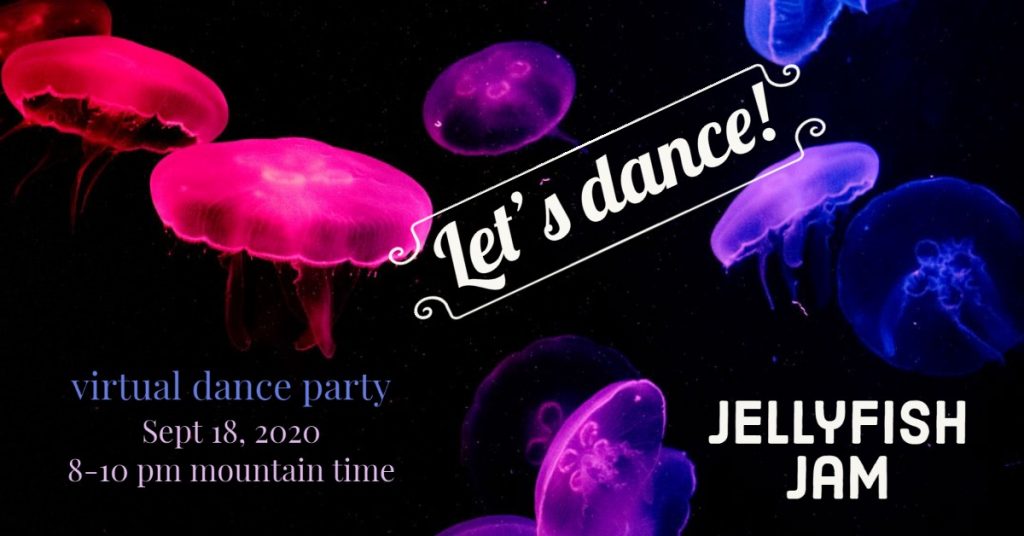 There is also a virtual video dance party on Friday Sept 18 from 8-10 pm MDT. The Jellyfish Jam will be hosted in Zoom.
Register here: https://us04web.zoom.us/meeting/register/upUqcuqgqjIqGdUtCAPnVK0DgAqT0UjSuuVx
After registering, you will receive a confirmation email containing information about joining the meeting.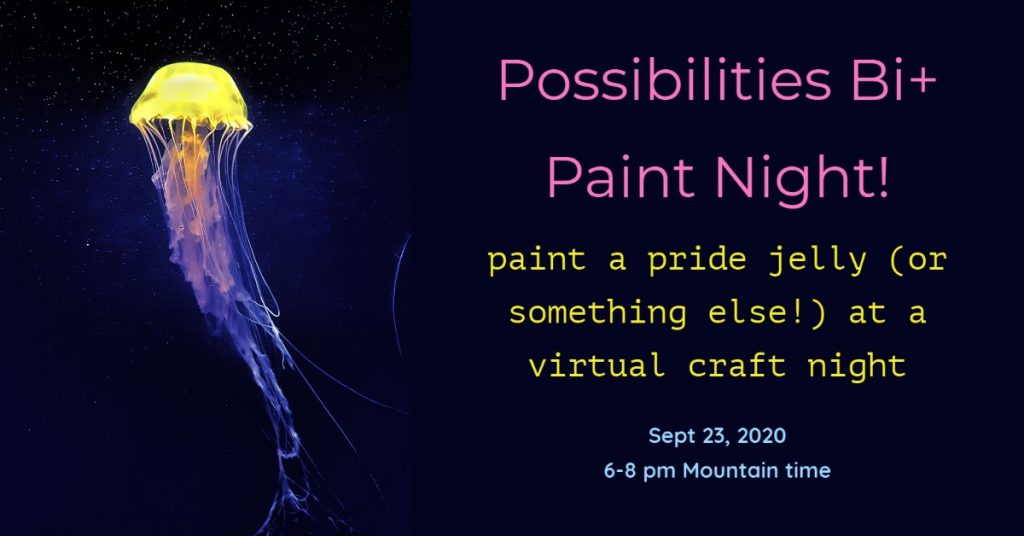 And lastly, a virtual paint night on Bi+ Visibility Day, Wednesday Sept 23 from 6-8 pm MDT. Anyone can participate, and for folks in Calgary, I'm putting together craft packs with a canvas board, paint brushes, and paint. You can find details and RSVP in the FB event – https://www.facebook.com/events/1175049712880550.
And, lastly, if the idea of finding light in the gloom appeals to you, you can use code 'jellyfish' from now until the end of September 2020 for 23% off An Unexpected Light, in celebration of Bi+ Visibility Day on September 23, 2020. An Unexpected Light is a course in speculative fiction and narrative therapy.