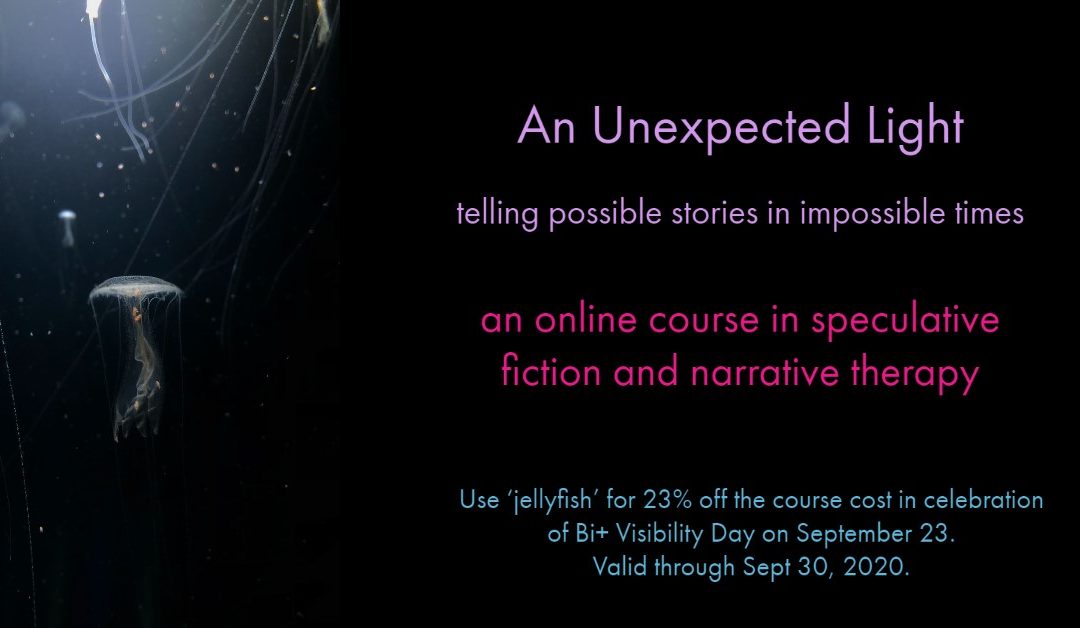 From now until the end of September, use code 'jellyfish' for 23% off the cost of An Unexpected Light in celebration of Bi+ Visibility Day on September 23.
An Unexpected Light is an online course in speculative fiction and narrative therapy. The course is fully asynchronous, meaning you can sign up at any time, and complete the modules at your own pace. When you enroll, you'll have immediate access to the 95 core lessons in the course, which include narrative therapy practices, curated reading selections, writing prompts and lessons, and integration and care lessons.
The six textbooks are also included in the cost of the course, and so is access to the twice-a-month video chats, the Discord server, feedback and editing for your writing, and ongoing access to new content as it is developed.
An Unexpected Light has been designed to support participants in finding possibility – finding the unexpected light together – in times that feel increasingly hopeless and overwhelming.The course is inspired by Walidah Imarisha's definition of visionary fiction as "fantastical writing that helps us imagine new just worlds. Visionary fiction encompasses science fiction, fantasy, horror, magical realism, alternative timelines, and more. It is fantastical literature that helps us to understand existing power dynamics, and helps us imagine paths to creating more just futures." (From this interview, which is one of our readings.)
We read visionary fiction, talk about visionary fiction, and write visionary fiction together, while also using narrative therapy to turn a visionary eye to our own lives and stories, inspired by David Denborough's statement that "who we are and what we do are influenced by the stories that we tell about ourselves. While we can't always change the stories that others have out us, we can influence the stories we tell about ourselves and those we care about. And we can, with care, rework or rewrite storylines of identity." (From Retelling the Stories of Our Lives, one of our included textbooks.)
And we link these two things, speculative/visionary fiction and narrative therapy, through the frame that Avery Alder offers, an invitation to "sincerely imagine impossible things, to develop empathy towards impossible creatures, to practice being impossible. When we learn to see ourselves in the fantastical, the impossible, the absurd – when we construct new lenses by which to understand our own power and identities – we also put forward a challenge to the world around us. We challenge the reigning paradigms about what is possible, about what power looks like and who is entitled to claim it. We challenge the notion that difference is shameful. We challenge the notion that our bodies, our lives, or our hearts are shameful." (From Variations on Your Body, another included textbook.)
Does that sound exciting?
Do you want to join?!
I would love to share this space with you. <3
(You can find out more about the course at www.tiffanysostar.com/an-unexpected-light)