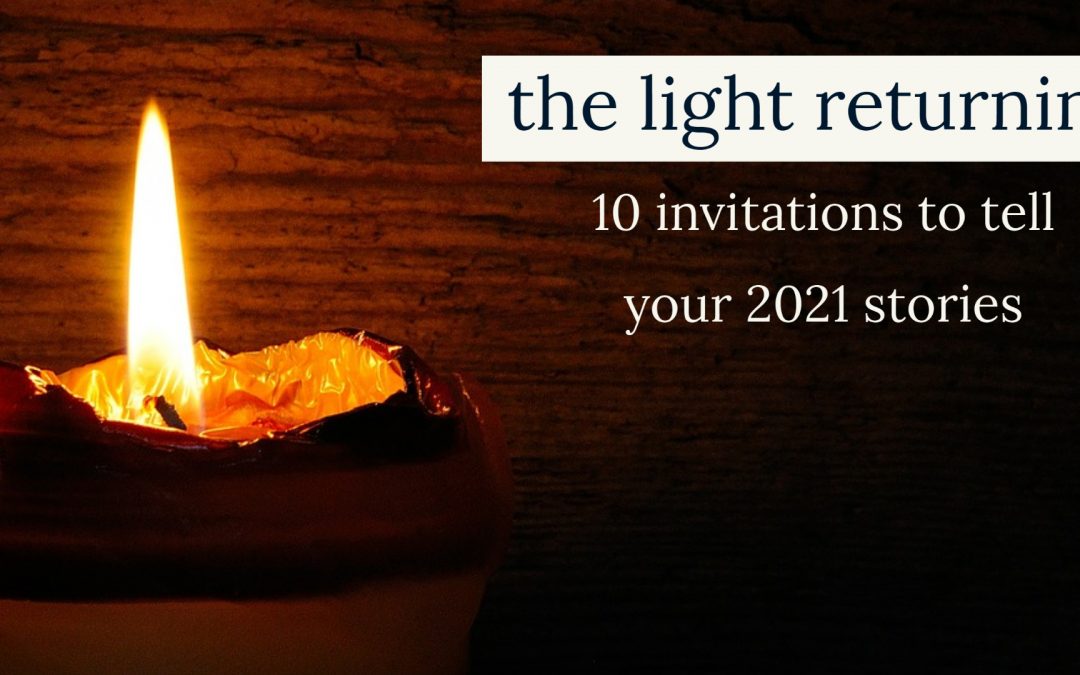 I am facilitating The Light Returning again this year. This is a series of invitations to tell your 2021 stories. This is the second time this course is running, and the workbook has been updated for 2021.
This course begins with the winter solstice in the Northern hemisphere.
Our opening ceremony will take place on December 21, 2021. As with so many 2021 experiences, and continuing the tradition we started in the 2020 version of this course, this opening ceremony will take place online in a video chat. This is such a grief and such a gift – that we cannot easily share each other's physical presence; that we can share each other's virtual presence across vast distance.
Many of our 2021 stories are filled with these contradictions. Such distance, such presence. Such disconnection, such connection. Such scarcity, such abundance. Such discouragement, such hope. It has been another year of extremes, for many of us.
The winter solstice marks the beginning of the lengthening days, the beginning of the light returning. 2021 has often felt long and despairing, a continuation of a 2020 that also felt long and despairing. It has felt, at times, like the light will never come back. Maybe even more this year than last year, for some of us.
That story of despair is often the most accessible when we think about what 2021 has meant, what it has included, what the story of this year has been. But 2021 includes more than just the stories of struggle and despair. It also includes the stories of care and collective action. The stories of survival. The stories of relationship and connection. Those stories are even more important as we continue in the hard times that we thought might end with a vaccine, as we continue into hard times that include more rapid and devastating climate change, more variants, more long covid, more fear, more despair.
This course is meant to invite participants to reflect on and share their 2021 stories. The good ones and the bad ones, the soft and the hard ones. My hope is that this course will help weave a more complicated, nuanced, richly described tapestry of the year, one that we can look back on and find ourselves in, not as passive recipients of collective trauma but as people with hopes for ourselves and our communities, with skills to navigate hard times, and with agency.
The opening ceremony is optional. Participants will receive ten days of emails, each containing a reflection and writing prompt. We will also have a Discord set up for sharing our stories or chatting.
Participants will also receive a workbook that includes each of the ten invitations, along with some additional information about the thinking behind the course, and some guidance for creating your own reflection prompts. You can print this workbook off and use it during the course, or share it with friends, or return to it whenever you go through an experience that wants to be given story.
This course is available on a pay-what-you-what basis.