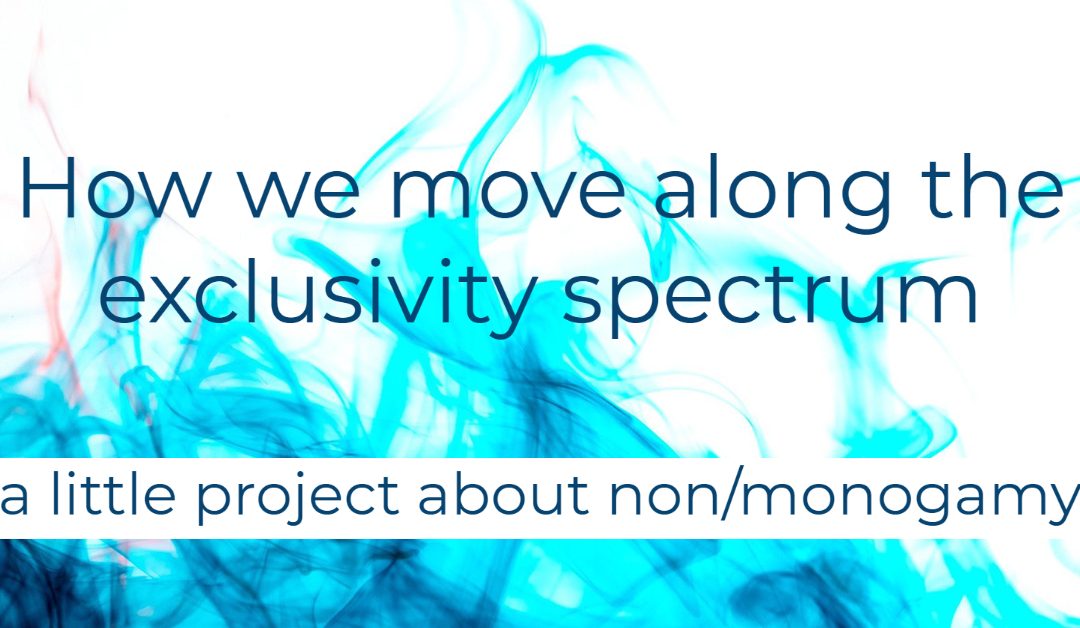 Has your experience of relationship exclusivity (monogamy and non-monogamy, but also types of exclusivity within either monogamous or non-monogamous relationships) shifted multiple times?
Would you like to talk about it?
I'm putting together the beginning of a narrative project on this topic, and will be scheduling one group conversation and up to 5 individual conversations between now and November 15.
Depending on how these conversations go and whether there is interest, I will be organizing a six-week narrative practice group where we can explore and re-story our experiences of changing relationship structures. This group will be scheduled for the new year.
My goal is to better understand how people experience fluidity in relationship structure preference over time. I think that within polyamorous spaces there is often the idea that there is an ideal (and linear) trajectory from monogamy to a specific form of polyamory.
I'm interested in talking about this, especially since I think for folks who have a different trajectory (such as returning to exclusivity, or having relationship structure preference expand and then contract, or preferring exclusivity in one area of a relationship even if there is non-exclusivity in another), there can be feelings of shame or failure attached to this.
If this sounds interesting to you, let me know! Email me at sostarselfcare @ gmail, and watch this space for the group conversation information.
Editing to add: The group conversation has been scheduled for November 7 from 11-12:30 mountain time, and will be hosted on Zoom. Contact me for registration info!