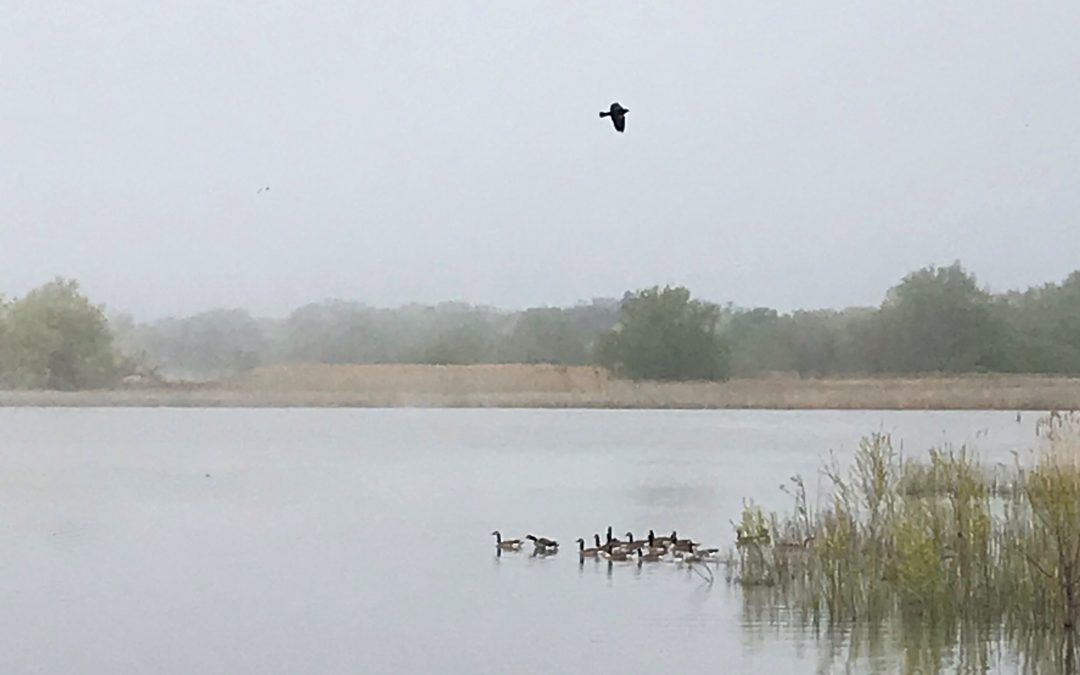 Image description: Lake Ontario on a foggy day. A flock of geese is in the water, and a bird is flying overhead. The trees in the background are green.
100 love letters to this world. This one that we're in right now.

(Content note on this first section for talking about some of what is happening in the world right now, including climate collapse, genocide, and starvation.)

Today, in this world, orcas, grey whales, polar bears are starving. Insect populations are collapsing. Forests are burning. Permafrost is melting.

Today, in this world, the National Inquiry for Missing and Murdered Indigenous Women and Girls releases their report, outlining the genocide, and asking for justice from this colonial government after generations of violence.

Today, right now, in this world, thousands of Yemeni children are dying of starvation in a civil war that is enabled by the US government. And the Canadian government sends aid, but sells arms into the conflict.

How can we love this world?

But maybe that is exactly why we should love this world. Because there is so much healing to be done. There is so much to stand vigil for, to witness, to resist.

And because there is so much to love.

Today, in this world, new species are evolving. The world will find a way to eat our plastic, and already mushrooms can digest plastic (both the oyster mushroom and the Pestalotiopsis microspora, which can survive entirely on plastic), wax worms can eat plastic bags, and researchers in Pakistan are studying landfill ecosystems. This world, much as we have fumbled our relationship with it, is majestic and determined. Life, as they say, uhh, finds a way. 😉

Today, in this world, Indigenous communities are preserving and passing down their cultures despite the ongoing violence of colonialism. In Australia, the Milan Dhiiyaan community posts regularly about their culture-saving (and joyful!) activities. In Canada, communities are doing the same. In every colonized space, Indigenous communities are holding the threads of their histories. They are weaving together new ways forward based on old knowledge. They know this world. The colonial project has never been successful.

Today, in this world, the African diaspora is stepping up in every creative space to offer hopeful Afrofuturisms and maps of response and resistance. In America and Canada, the Black Lives Matter movement continues to make a difference, showing us that something else is possible. Black filmmakers, musicians, writers, historians, professors, podcasters, bloggers, and performers are holding space for possible futures and holding powerful systems accountable for the harm that is ongoing.

In this world, crip communities are not only imagining but enacting disability justice. And disability justice means justice for everyone. This work is already being done, has already been done for generations among networks and communities of care. They know how to keep each other alive even when the context is hostile. They know how to get through apocalyptic conditions. And they are sharing their knowledge. Find the authors, the podcasters, the creators. The map-makers.

This world is more than grief and tragedy.

This world is more than collapse.

I've been thinking about this letter all weekend. I've written a dozen versions, and meant to send out a few pre-project letters, but I hesitated. This project, now that it is here, seems daunting.

It is hard to show up in love and grief. It is hard to hold love and anger in the same hand. It is hard to open up to love, knowing that despair will also find that open door.

On Thursday, I went for a walk along Lake Ontario. The fog was thick, and the birds were everywhere. I saw chipmunks and squirrels, mosquitoes, good puppers and so many green and growing things.

It felt magical. It was a gift. An invitation. An affirmation.

---
Today is the June New Moon. From the Many Moons Planner:

"This month could be an excellent time to reflect on relationships. Thinking about everything as a relationship can be helpful, as it opens us up to multiple possibilities, and highlights our perceptions, behaviour, and thought processes as agents enacting those possibilities. When we interrogate our relationship to ourself, our relationship to time, our relationship to friends, family, etc., it can take us out of the realm of rigidity, and into the real of possibilities. We are NOT just our behaviour, our thoughts, our mistakes, our harmful habits.
…
This month, try to treat yourself with more care, kindness, and compassion. Hold your own hand through your one and only life."

So I begin this project with an invitation to reflect on my relationship with this world. To find the possibilities, and to think about this relationship in deep and meaningful ways.

Onward!
---
Dearest world,
I come into this project with grief and despair, searching for connection and possibility.
I don't know how to be with you, dear world. I interact with you primarily through media, reading about soil more often than I touch the dirt, looking at pictures of animals more often than I sit quietly in their wild spaces.
Even my houseplants are struggling. I forget to feed myself, and I forget to water them, too.
I dream of making crow friends, and forget to put seeds in my pockets.
But I am here, and trying.
And when I show up, you are here, too. Every time I step out into this world, there it is. Bigger than I am, bigger than I can imagine. And I am in it, I am part of it.
I think that this project is, in some ways, 100 days of grieving and memorial. We are watching many species die, and we are watching many ecosystems transform in ways that are violent, tragic. We are watching collapse.
We are watching change.
But change offers possibility. I think of Octavia Butler, and her Earthseed principles.
From Parable of the Sower:
All that you touch
You Change.

All that you Change
Changes you.

The only lasting truth
Is Change.

God
Is Change.
So, if part of this project is a memorial, let it be an Earthseed memorial. Octavia Butler knew just the way.
An excerpt from the Earthseed funeral in Parable of the Talents:

We give our dead
To the orchards
And the groves.
We give our dead
To life.

Death
Is a great Change—
Is life's greatest Change.
We honor our beloved dead.
As we mix their essence with the earth,
We remember them,
And within us,
They live.

Darkness
Gives shape to the light
As light
Shapes the darkness.
Death
Gives shape to life
As life
Shapes death.
The universe
And God
Share this wholeness,
Each
Defining the other.
God
Gives shape to the universe
As the universe
Shapes God.
We have lived before.
We will live again.
We will be silk,
Stone,
Mind,
Star.
We will be scattered,
Gathered,
Molded,
Probed.
We will live
And we will serve life.
We will shape God
And God will shape us
Again,
Always again,
Forevermore.
I start this project with grief, and also with remembering, and discovering. I am alive, and I will serve life. That's my intention for this project.
I love you, world.
– Tiffany
---
If you would like to receive the love letters in your inbox, you can join the email list here.
If you want to know more about this project, you can find the intro post here. You can participate in many ways, including on social media using the hashtag. You can also participate off social media, and if you would like your letters shared, you can send them to me to be included in the emails.
If you want to support my work, you can find my Patreon here.