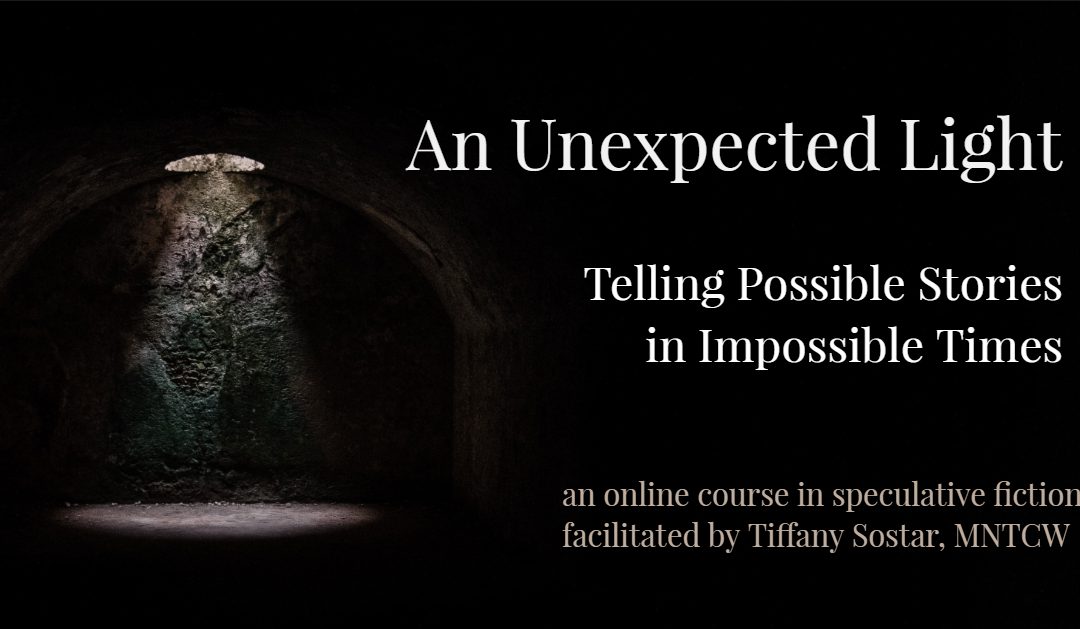 You may have noticed a new addition to the top menu, a link to the page for An Unexpected Light, the speculative fiction and narrative therapy course that will be launching on October 1. As of August 15, all of the scholarship spaces are filled, but there are still 11 paid spaces available and negotiating an extended or alternative payment plan is totally possible.
This post is a copy of the email sent out to people who have either enrolled in An Unexpected Light, or who have signed up to my Thinkific site. You can do either of those things here!
---
Dear Phototropes,
Phototropism, first defined in 1899, is the mechanism that causes plants to orient towards light. (I anticipate that our journey together will include both the phototropism of turning towards the light of hopeful stories, and also the bioluminescence of creating our own hopeful stories.)
So, welcome!
First, a little teaser of some of our content (which I'm hoping will inspire you to enroll, if you haven't yet, or to let your friends know about this course!)
In the lead-up to the course starting on October 1, I'm going to share some of the great writing that didn't make it into the syllabus, and some writing about texts that are in the syllabus.
First, Susan Jane Bigelow's story A Memory of Wind, in Glittership (so you can listen to the audio or read the text).
I didn't include this story, although it would be a great fit for when we're working on memory in month 4. But I loved it, so I'm including it here.
Second, this video about Janelle Monae's science fiction. Although this video was made before Dirty Computer (which we'll be watching as one of our texts), the points about how she uses music, dance, and costume are all super relevant to the later video. I didn't include this in the course, but it's also worth a watch!
And now, the question.
The first two of the textbooks have arrived, and I am thrilled! Octavia's Brood and Funambulist no. 24: Futurisms are in my hot little hands, and Witchbody is waiting for me at Shelf Life Books. The only one we're waiting on is Variations on Your Body, which I anticipate receiving within a week or two.
This means, of course, that folks who have signed up early can get their textbooks early, too! As soon as all four are here, I'll start mailing them out.
So, if you have already enrolled in the course, let me know, dearest phototropic readers and bioluminescent writers, whether you would prefer to receive your textbooks in physical or digital format. If you would prefer your books in physical form, please also send me your address.
Lastly, if you have any questions, especially if you're on the fence about whether to enroll, please let me know!
And if you can think of anywhere that I should send information about the course, or if you know anyone who might be interested, I would love to hear that, too.
I'll be sending out a few of these messages with teaser content as we approach the course starting on Oct. 1.
One goal is to generate excitement for the course, another is to share some of the delicious content that didn't fit into the course, and the last is to start getting some feedback from you about what kind of content most resonates, so that I can tweak the course before it starts.
I'm so thrilled to be on this journey with you.
Onward!
Warmly,
Tiffany