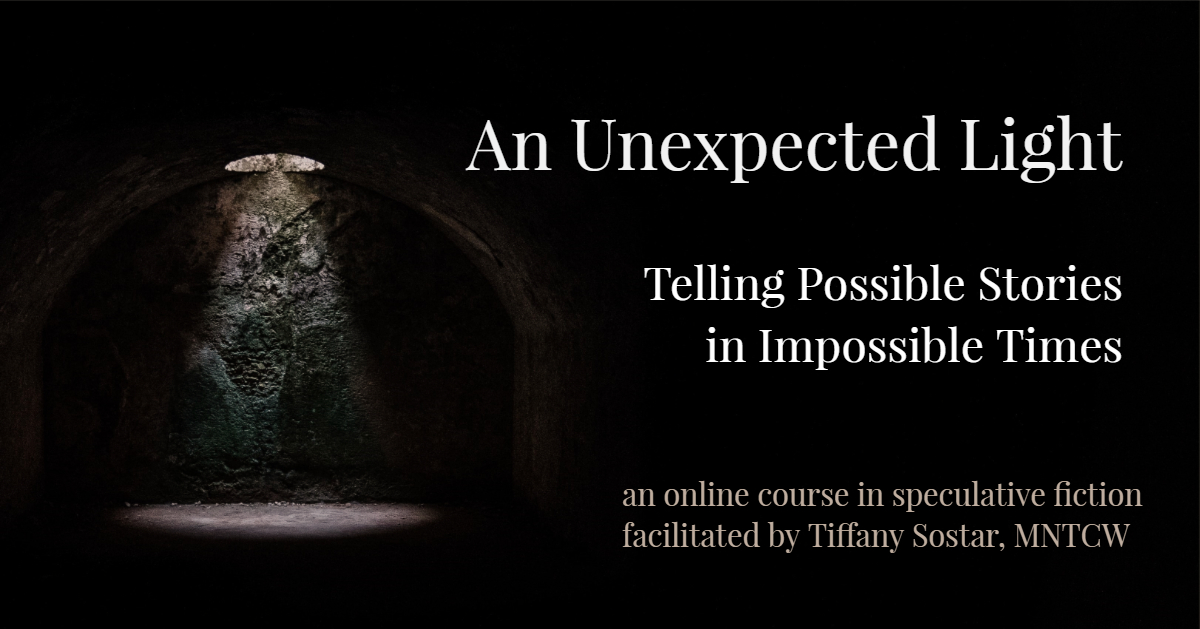 An Unexpected Light will be offered again in early 2020!
An Unexpected Light is a 6-month online speculative fiction course designed to respond to what often feels like a growing and inescapable sense of hopelessness and despair within individuals and communities. The goal of this course is to offer many invitations towards possibility, towards life. Combining narrative therapy practices with guided writing and curated reading selections, we will search for the unexpected light together.
Like Orion rising from the underground in Autumn Brown's short story Small and Bright, we, too, will grab for the survival pack, learn to read old maps in new territories, and find our way towards what is possible. (Do you want to read Small and Bright? It's one of the stories in Octavia's Brood, one of the textbooks in this course!)
Although this is designed to be a therapeutic speculative fiction course, meaning that it has been designed with the goal of strengthening participants' connections to a sense of agency and to their own legacies of action and response, this course is open to anyone who wants to read and/or write speculative fiction and is looking for an intersectional and anti-oppressive space for that reading and writing.
New writers, hesitant writers, reluctant writers, aspiring writers, and discouraged writers are all welcome and encouraged! Almost all of the contributors to Octavia's Brood, one of the textbooks for this course, had never written fiction, let alone speculative fiction, before that project.
Participants will be invited to collaborate on an anthology of speculative fiction after the end of the course, and will have editing assistance if they choose to participate. 
 Early bird registration for the course is $750, and will be available up to one month before the course starts. After that, the cost for the course is $850. This cost includes textbooks. 
Course registration is limited to 15 participants, with 5 additional scholarship spaces for participants with financial access needs. Class size is limited so that every participant can receive individual feedback. 
How much time do I need to dedicate to this course?
You should be able to complete this course in 2-3 hours per week if you do everything. But I know that many of us are operating under scarcity and are time-crunched, so the course has been designed to allow you to do what you have time for, and still be able to come back to the new content each week.
Do I need to be a writer to take this course?
Definitely not! New writers, hesitant writers, reluctant writers, aspiring writers, and discouraged writers are all welcome and encouraged! Almost all of the contributors to Octavia's Brood, the primary text for this course, had never written fiction, let alone speculative fiction, before that project.
Will this course interfere with NaNoWriMo or my other big commitments?
An Unexpected Light has been designed to be modular, meaning that you can do the parts that appeal to you and skip the rest. This means that you can take the course primarily for the narrative therapy practices (released on the first week of each month), or for the curated reading (released on the second week), or for the writing prompts (released on the third week).
Lessons are also downloadable, so that if you're participating in NaNo or you have something big come up during the course, you can download the content and come back to it when you're able.
How is narrative therapy relevant to this course?
Narrative therapy is the foundation of this course, because it offers us a way to explore the stories that we are telling and that we have been told, and to make decisions about the stories that we want to tell going forward. 
This course emerges from my dissatisfaction with how many of our dominant contemporary stories focus on a hopeless and despairing future, or on a future saved by a single hero who saves the world without dismantling (or even challenging) the oppressive systems that have caused these problems.
Narrative therapy offers a way to think about and tell stories that are strong, that are connected to our values and the legacies of action that we want to join, and that challenge the oppressive systems that are inviting apocalyptic problems into our lives.
Is this course all about apocalypse and huge political issues?
It can be! But it doesn't have to be. Course content has been designed to allow you to take your writing and your reflections in whatever direction feels right for you – you can focus on big topics like climate crisis and politics, or you can focus on more personal topics.
Do I have to be a feminist to take this course?
This course brings an intersectional feminist lens to the material, and it is explicitly focused on social justice. But you can identify however you would like! There are many reasons that someone might not identify as a feminist, including feminism's long and ongoing history of complicity with colonialism, racism, ableism, transphobia, and other oppressive systems.
What if I don't enjoy reading?
That's okay! This course has been designed with multiple types of texts (including a graphic novel, some roleplaying games, videos, and podcasts) to make it more accessible to folks who may not feel welcomed by a course that's full of nothing but written texts.
In addition, you can take this course for the narrative therapy, for the curated content, for the writing, or for any combination. All of the themes have been designed to be modular, so that participants can choose their level of engagement.
Course Topics
Topic 1: Urgencies: Reframing, renaming, reauthoring 'apocalypse'
Topic 2: Escaping from failure
Topic 3: Places of sustenance
Topic 4: Remembering futures
Topic 5: Kinship and community
Topic 6: Legacies of action
Texts
Textbooks are included in the cost of the course, and will be mailed and/or emailed out to course participants (some are available in PDF form, others not). The value of the textbooks is approximately $90 CAD. Extra shipping costs may apply to participants outside of Alberta.
Dirty Computer emotion picture (2018). By Janelle Monáe.
The Funambulist no. 24: Futurisms (2019).
Octavia's Brood (2015). Edited by adrienne maree brown and Walidah Imarisha. 
Witchbody (2017). By Sabrina Scott.
Variations on Your Body (2019). By Avery Alder.
And a collection of other articles and stories.
Accessible Pricing
An Unexpected Light has five scholarship spots available, and sliding scale or payment plan options are available for folks who need them. Email me today to access these pricing options.
About the Facilitator
Tiffany Sostar
I am a bisexual, non-binary, and chronic pain-enhanced narrative therapist, writer, editor, and community organizer. I also have many privileges, including my education, citizenship, thinness, and whiteness. I am a settler on Treaty 7 territory, on land belonging to the Blackfoot Confederacy (including the Siksika, Kainai, and Piikani First Nations), the Stoney-Nakoda (including the Wesley, Chiniki, and Bearspaw First Nations), the Tsuut'ina First Nation, as well as the Métis Nation of Alberta, Region 3.
I have facilitated trauma-informed writing workshops for over a decade, and currently work as a narrative therapist in Calgary, Alberta and online.
I currently facilitate a monthly bi+ community discussion group, a monthly-ish climate grief circle, a non-binary discussion group (with a sibling group that meets in Adelaide, Australia and is facilitated by my brilliant colleague Rosie Maeder).
I also co-host the Letters of Support for the Trans Community project with my sister, Domini Packer.
All of these intersections of identity and experience shape my work and life.
I do not know many people with the ability to hold space for multiple and even seemingly conflicting perspectives, from a variety of people, in a way that centres inclusion without also replicating the conditions for exclusion and transmitting harm — Tiffany Sostar is one of them.
Tiffany's courses, workshops, collaborations, and client-work are unfailingly generous. Tiffany is present to whatever is arising in the moment, the material is thoroughly prepared, and is offered responsively rather than presented in a closed-system, with minimal regard for might be unfolding for participants.
I have attended a small number of workshops and events run by or in close collaboration with Tiffany, and I look forward to doing so again; because, I know that wherever I am in my person or process, Tiffany is willing and skilled in meeting me there and helping me along the path of our shared understanding to a mutually desirable objective.
At the risk of sounding maudlin (and understanding for that same reason Tiffany may choose to excerpt from this testimonial), I cherish Tiffany and treasure the ways in which their work supports a rigour of quality I am looking for in ways that are accessible to the full-range of experiences my bodymind inhabits.
Recommend 100%. 39/24 gold stars. 13/7 black hearts.
Tiffany and word smithery are synonymous in my mind. I've attended several different writing groups they have offered over many years. I enjoyed the smutty writing sessions a great deal and found the writing prompt events to stimulate me in ways I didn't know possible. Tiffany uses an approach that met me where I was at in my writing practise. Their methods empowered my voice and their authentic actions despite being quite skilled left me feeling welcomed versus intimated. They are humble, informed, and create spaces that allow me to be whomever I am and where ever I am at. They have been so attentive to suggestions.
I can't wait to continue to develop my writing through the courses they offer. If you are at all curious to grow while being embraced for where ever you are and whom ever you are please do connect to Tiffany. I didn't regret it and hope you find it worthy of pursuit too!
Other Resources
These are just a few of the resources and projects that I've co-created with my communities.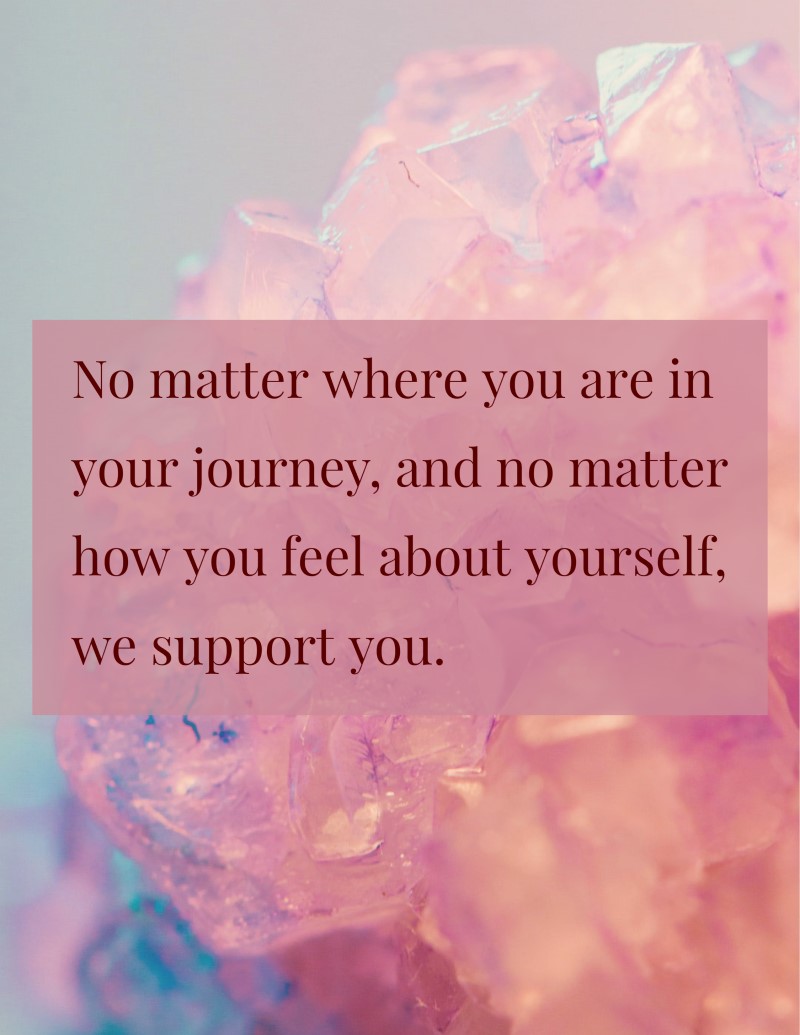 Letters of Support for the Trans Community
Download the 24-page PDF, or request a supportive letter in the mail for yourself or a trans loved one. Information in the link.
Non-Binary Superpowers
Download the 17-page collective document created by non-binary groups in Calgary, Alberta and Adelaide, Australia. Proper blog post coming soon – for now, just a link to the PDF directly. This document will be published in the upcoming International Journal of Narrative Therapy and Community Work!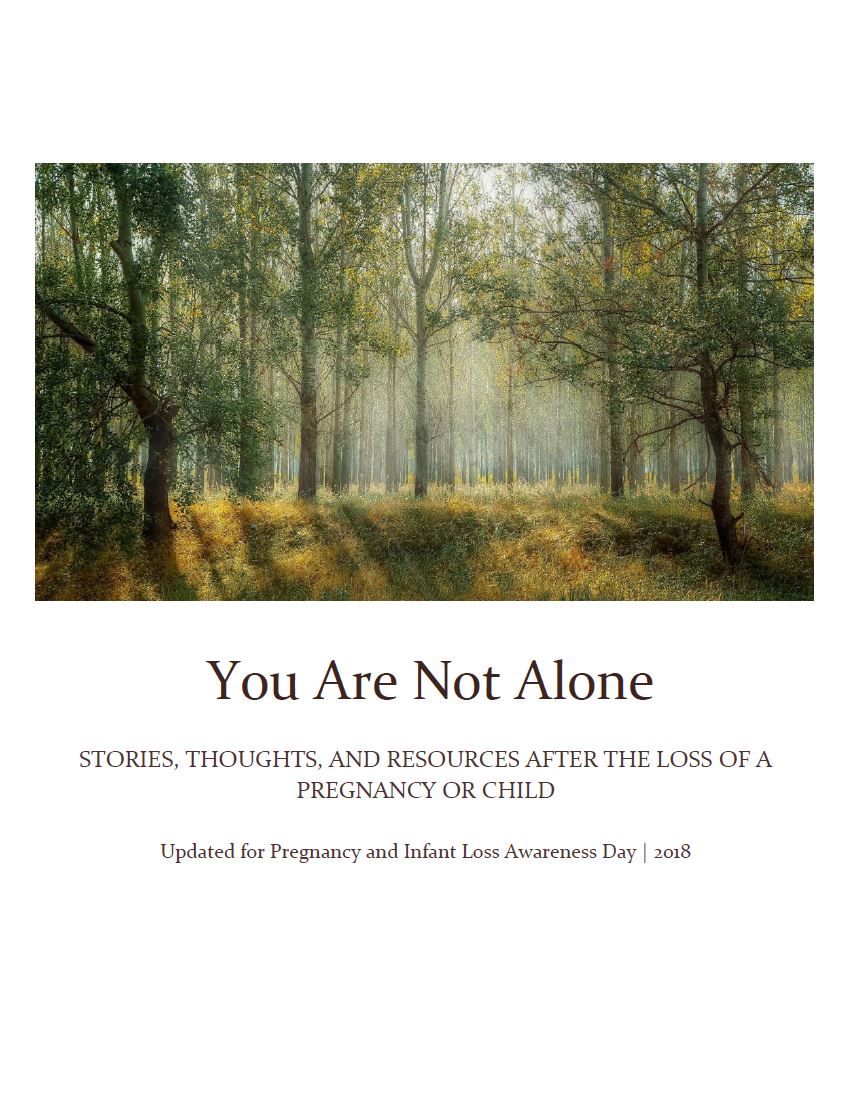 You Are Not Alone pregnancy and infant loss resource
Download the 66-page PDF and learn more about this ongoing community-driven resource project.
Available in Late 2019
More Online Courses!
Keep an eye out for the following courses to launch later this year. Each of these has run previously as an e-mail-based course, and is being converted to a more user-friendly and accessible platform.
An Invitation to Celebrate: Resisting Comparison and Perfectionism and Honouring Actions, Choices, Skills, Values, Hopes, and Legacies
Bridges and Boundaries: Social Care
Wayfinding Blog
Follow Along
David Maxwell Memorial Reading Challenge Created by Tiffany Sostar In joyful memory of their dad, David Maxwell: lover, collector, and sharer of books January 12, 1953 – November 30, 2019 Outside of a dog, a book is man's best friend. Inside of a dog, it's too dark to...