How can we celebrate our own or other lives
 

without

 

comparison or expectation? 

That's what this course is all about!

It's about reflecting on the choices we've made, the values we've held, the acts of living and caring that we've engaged in. 

Celebrating our values, hopes, dreams, actions, and choices, rather than our accomplishments can be a powerful tool for standing against the idea that only certain kinds of "progress" or "accomplishment" are worth celebrating.

And your life is worth celebrating. 

It is a radical act of resistance to celebrate your life when the culture around you says you are not worth celebrating. If you are fat, poor, queer, Black, brown, Indigenous, trans, disabled, neurodivergent, a sex worker, homeless, living with addiction, or in any other way pushed to the margins and rarely celebrated, this course is especially for you. 
Your life is worth celebrating.
You may feel like you haven't accomplished anything, or that your problems have gotten in the way of anything worth celebrating. This course is also for you if you feel swamped by your problems. Your story is never just one thing; never just the struggle, never just the problems. This course hopes to invite a multi-storied telling of your life (the past year, the past decade, or any other span of time) – one that honours hardship and resistance and also recognizes that there are stories of joy, companionship, connection, and play. You are more than your problems.
This course is meant to invite stories of resistance and stories of celebration. The prompts and exercises in this course will guide you through the process of telling your stories, and will help you recognize and name the ways in which you have been resisting hardship in your life, and how you have been responding to problems. This course will help you resist comparison and perfectionism, and instead help you feel connected to your own strong values, hopes, skills, beliefs, and histories of action.
There are sparkling moments in even the gloomiest time.
This course is meant to help you stand against the comparison and perfectionism that so often accompanies New Years, birthdays, anniversaries, and other moments of reflection. It's meant to help you feel connected to your own strong stories, and to a sense of yourself as a person who has a story worth telling.
This course is based on a ten-day narrative therapy group project that ran from December 21 to the end of the year in 2018. The purpose of this group was to counteract the pressure of New Year's resolutions, with their focus on "progress," perfection, and comparison, and shift the focus onto celebrating the many actions, choices, skills, values, and hopes that we had kept close in the last year. 
There are sparkling moments in the lives of our loved ones, too.
This course can also be used to celebrate the life of someone that you treasure, whether they are living or not. These prompts can be used to find the sparkling moments and the stories worth celebrating, particularly if your loved one experiences or experienced struggle or if you have had a hard time telling their stories. 
In each theme, there is a section with questions and prompts that have been adapted to invite your reflections on their lives, the values that they held, the choices that they made, and the actions that they took. 
This process can, if you would like, result in a small memorial document that brings together some of your cherished memories. As a memorial for someone who has stepped out of this world, this can be a comfort to you and other loved ones. And as a gift for a treasured person who is still in your life, it can be a strong source of affirmation and kind witnessing. 
When and how does this work?
An Invitation to Celebrate might be particularly helpful around birthdays, anniversaries, major life transitions like graduations, relocations, retirements, gender or sexuality journeys, new experiences of diagnosis, and, of course, if you're feeling the pressure that often comes with New Year celebrations! It may also be particularly helpful after a loss. 
Although this project was created at the end of the calendar year, and this course is opening for the first time at the end of 2019 (which brings the added pressure of being the end of a year and the end of a decade), I hope that you find it helpful at any time when you are invited to compare your "progress" to other people or to some societal expectation. Anytime you need some support in seeing your own value and the richness of your stories, or remembering the rich stories of a loved ones, or when you want to celebrate your or someone else's life, choices, skills and values – I hope this course will help.
This course has been designed so that you can work through it in 12 days, 12 weeks, or 12 months – there are adaptations for guiding yourself through this course in various ways. You'll have access to all of the content as soon as you sign up, and your access will remain as long as the course exists in this format. You can also come back to the chapters after completing them. 
For example, you could use this course as a New Year's countdown (starting it on December 19), and then return to the lessons and bring a different focus to each month of the coming year, and use this course as a tool to keep you connected to a sense of possibility and celebration throughout the year. You could do this for yourself or for a cherished person in your life. 
Doing a New Year's countdown to celebrate a life of someone lost can be one way to focus on the ways in which their legacies continue into the new year, and can be a balm in what can be an incredibly difficult time to be grieving. 
However, it can also sometimes be too much to do a different theme each day, and you may prefer to do this slowly, or focus on a single theme across the season. Trust yourself. You know what you need.
This course invites you to recognize and celebrate all of the ways in which you (or a treasured person) have stayed connected to values, joined together with your communities, stood against injustice and harm. Over the course of this project, you will have the opportunity to celebrate the many actions that were taken in the last year or over a period of time, actions that were rooted in love and justice.
Narrative practice
This course is informed by narrative therapy practices and focuses on helping you tell your stories (even if those stories are about other people). You can tell your stories in whatever way works for you. 
You can journal or write letters
You can invite a friend to join you in this process and have conversations about the prompts
You can record video or audio responses to the prompts
You can share your responses on social media and invite your community to share in the process (please don't share the full content of the course, but do feel free to share your responses and even the prompts! If you do this, please include a link to the course.) 
The course costs $120. If you would like to participate but finances are a barrier, just get in touch.
Course registration is ongoing – you can sign up anytime, and you can access the content anytime. Course participants will be invited to contribute to an annual zine in November of each year, celebrating their own stories or stories of their loved ones.
How much time do I need to dedicate to this course?
You can complete this course in 12 days with a single writing session per day, or over 12 weeks to make this a season-long process, or 12 months for a full year of celebration. The course expands and contracts to fit your needs.
How is narrative therapy relevant to this course?
Narrative therapy is the foundation of this course, because it offers us a way to explore the stories that we are telling and that we have been told, and to make decisions about the stories that we want to tell going forward.
This course was originally designed to stand against the comparison and perfectionism that can show up around New Years, and this way of resisting expectations and comparison comes directly from narrative therapy.
Narrative therapy offers a way to think about and tell stories that are strong, that are connected to our values and the legacies of action that already exist in our lives and the lives of our loved ones.
What does it mean to "celebrate the life of a loved one"?
In November 2019, my dad, David Maxwell, stepped out of this story. As a way to honour him, and to celebrate his life, I created a parallel stream in this course that would invite participants to celebrate someone else's life. These prompts can be used to celebrate the life of someone who has died, allowing us to create a memorial document or engage in conversations with the people grieving with us, or to celebrate the life of someone we cherish and create a document that tells them what they mean to us.
Do I need to be a writer to take this course?
Definitely not! New writers, hesitant writers, reluctant writers, aspiring writers, and discouraged writers are all welcome and encouraged! You do not need to respond to the prompts with writing – you can talk about them, draw or paint about them, or just think about them.
Do I have to be a feminist to take this course?
This course brings an intersectional feminist lens to the material, and it is explicitly focused on social justice. But you can identify however you would like! There are many reasons that someone might not identify as a feminist, including feminism's long and ongoing history of complicity with colonialism, racism, ableism, transphobia, and other oppressive systems.
The Themes
Surviving and Affirming Life
Creating
Contributing
Connecting
Sharing
Building
Healing and Responding to Pain
Changing
Learning and Unlearning
Resisting
Persisting
Integrating
Accessible Pricing
If you would like to take this course but finances are an issue, email me.
About the Facilitator
Tiffany Sostar
I am a bisexual, non-binary, and chronic pain-enhanced narrative therapist, writer, editor, and community organizer. I also have many privileges, including my education, citizenship, thinness, and whiteness. I am a settler on Treaty 7 territory, on land belonging to the Blackfoot Confederacy (including the Siksika, Kainai, and Piikani First Nations), the Stoney-Nakoda (including the Wesley, Chiniki, and Bearspaw First Nations), the Tsuut'ina First Nation, as well as the Métis Nation of Alberta, Region 3.
I have facilitated trauma-informed writing workshops for over a decade, and currently work as a narrative therapist in Calgary, Alberta and online.
I currently facilitate a monthly bi+ community discussion group, a monthly-ish climate grief circle, a non-binary discussion group (with a sibling group that meets in Adelaide, Australia and is facilitated by my brilliant colleague Rosie Maeder).
I also co-host the Letters of Support for the Trans Community project with my sister, Domini Packer.
All of these intersections of identity and experience shape my work and life.
I greatly appreciated the opportunity to be involved with the Invitation to Celebration project last year. At the time that the project was happening, I had been preoccupied and absorbed with some events in my own life (recovering from some medical issues) and given the struggles I had been through as well as the often bleak social tone of the world that many of us experience these days, the opportunity to reflect and celebrate felt very important.
I wound up going through the prompts during a date with someone I'd been seeing for about 8 months. We shared a drink and reflected on the past year, so much of which we had spent together. It was a really beautiful way to engage and share reflection with someone who also tends to be very thoughtful and reflective, and who had witnessed some of my struggles while I had witnessed theirs.
I absolutely intend to engage with these prompts again in the future!
During this course, it was so helpful to shift my focus to things I am grateful for in my life. I am also thankful for the ability to look back on the document as an ongoing reminder of things I have celebrated, and notice how these reflections have affected the choices I have made over the past year.
I do not know many people with the ability to hold space for multiple and even seemingly conflicting perspectives, from a variety of people, in a way that centres inclusion without also replicating the conditions for exclusion and transmitting harm — Tiffany Sostar is one of them.
Tiffany's courses, workshops, collaborations, and client-work are unfailingly generous. Tiffany is present to whatever is arising in the moment, the material is thoroughly prepared, and is offered responsively rather than presented in a closed-system, with minimal regard for might be unfolding for participants.
I have attended a small number of workshops and events run by or in close collaboration with Tiffany, and I look forward to doing so again; because, I know that wherever I am in my person or process, Tiffany is willing and skilled in meeting me there and helping me along the path of our shared understanding to a mutually desirable objective.
At the risk of sounding maudlin (and understanding for that same reason Tiffany may choose to excerpt from this testimonial), I cherish Tiffany and treasure the ways in which their work supports a rigour of quality I am looking for in ways that are accessible to the full-range of experiences my bodymind inhabits.
Recommend 100%. 39/24 gold stars. 13/7 black hearts.
Tiffany and word smithery are synonymous in my mind. I've attended several different writing groups they have offered over many years. I enjoyed the smutty writing sessions a great deal and found the writing prompt events to stimulate me in ways I didn't know possible. Tiffany uses an approach that met me where I was at in my writing practise. Their methods empowered my voice and their authentic actions despite being quite skilled left me feeling welcomed versus intimated. They are humble, informed, and create spaces that allow me to be whomever I am and where ever I am at. They have been so attentive to suggestions.
I can't wait to continue to develop my writing through the courses they offer. If you are at all curious to grow while being embraced for where ever you are and whom ever you are please do connect to Tiffany. I didn't regret it and hope you find it worthy of pursuit too!
Other Resources
These are just a few of the resources and projects that I've co-created with my communities.  
Letters of Support for the Trans Community
Download the 24-page PDF, or request a supportive letter in the mail for yourself or a trans loved one. Information in the link.
Non-Binary Superpowers
Download the 17-page collective document created by non-binary groups in Calgary, Alberta and Adelaide, Australia. Proper blog post coming soon – for now, just a link to the PDF directly. This document will be published in the upcoming International Journal of Narrative Therapy and Community Work!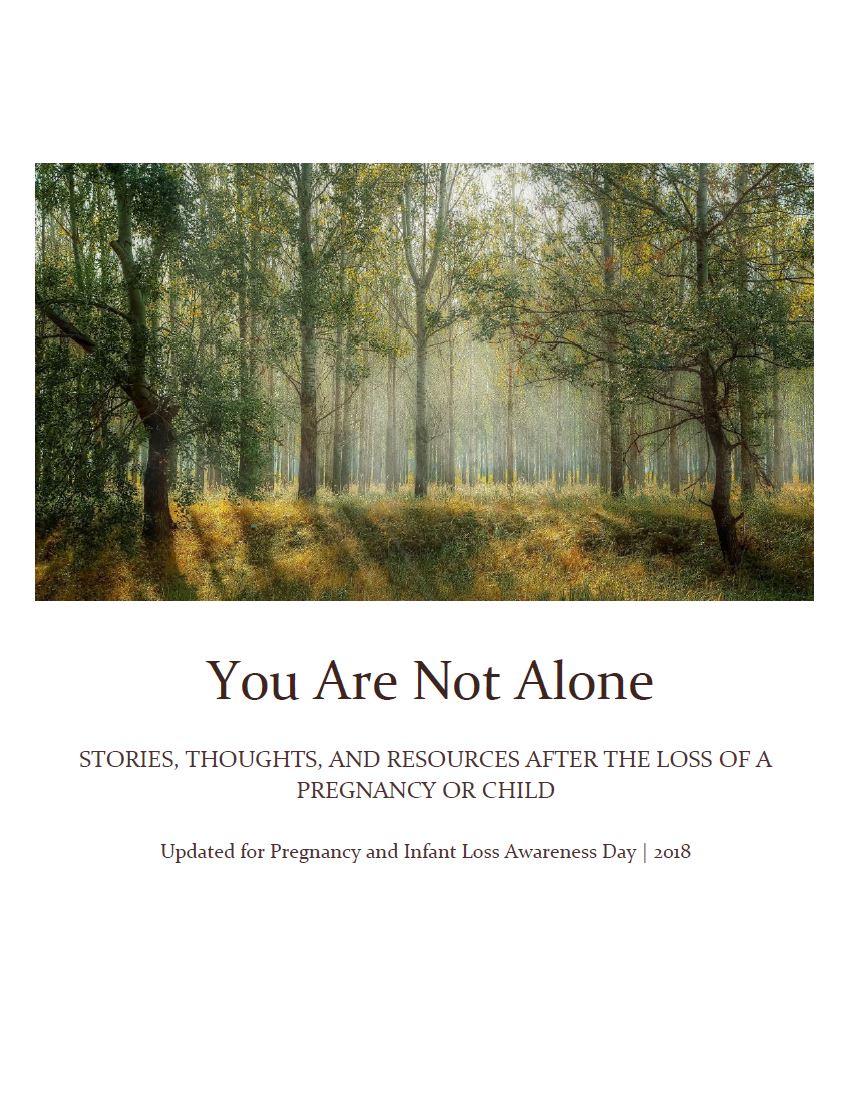 You Are Not Alone pregnancy and infant loss resource
Download the 66-page PDF and learn more about this ongoing community-driven resource project.
An Unexpected Light is a six-month online course in speculative fiction and narrative therapy. The next course will be opening for registration in January 2020, and will be starting in March 2020.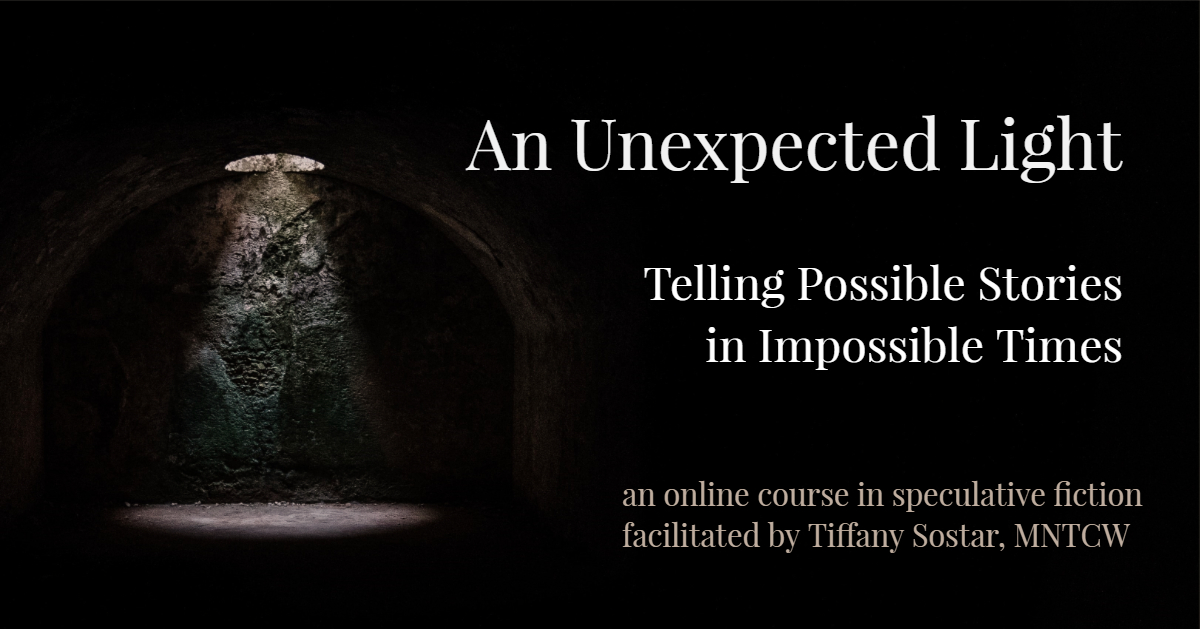 Wayfinding Blog
Follow Along
You can find me at a bunch of public events this month. I've put them all together here to make it easier! A jar of fairy lights on the beach. Text reads: Shiny! a speculative writing group Shiny! speculative writing group November 8, 4-5:30 pm mountain time Our...