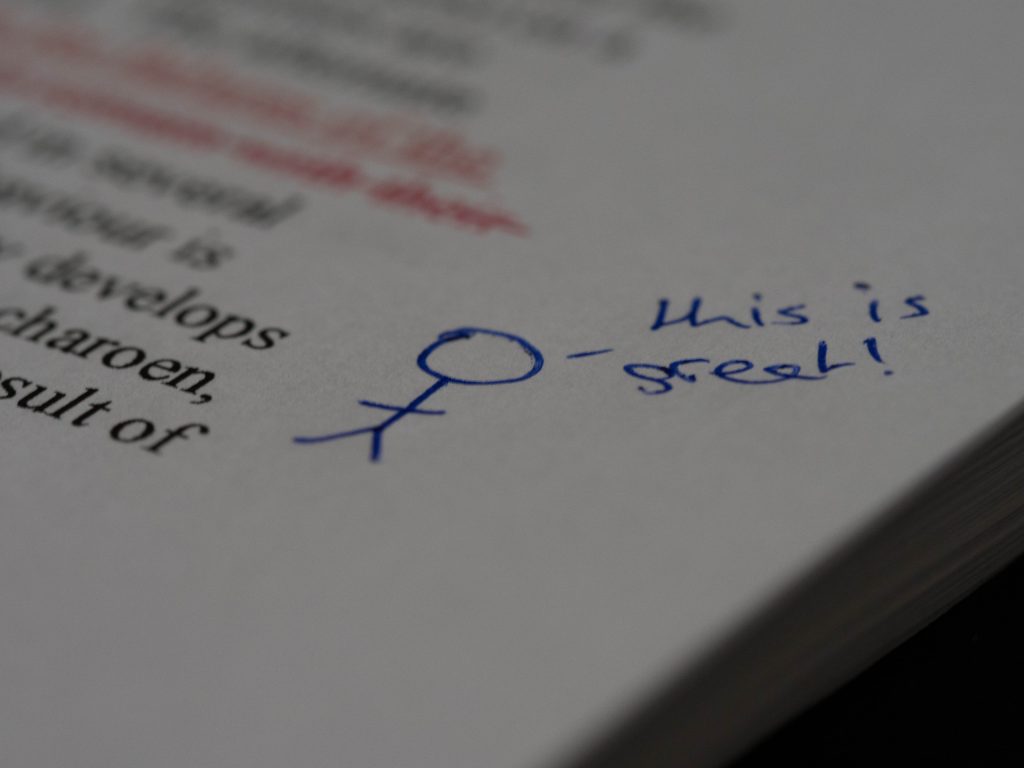 Editing Services
(for writers who are afraid of editors)
Services and Rates
I have edited everything from poetry and erotic fiction to heavily academic texts (including dissertations, academic monographs, and papers from the undergraduate level through publication in peer-reviewed journals). I am an insightful, detail-oriented editor with citation-wizard formatting skills and a secret identity as a research assistant that means you have the potential of hiring me as both editor and assistant. I am a queer theory, feminist theory, critical race theory, crip theory, gender theory, lit theory, porn studies, graphic novel, high fantasy, sci fi, poetry, fairy tale, mythology nerd and I will bring my sharp eye and many areas of expertise when I engage with your work. But I am also, and primarily, a self-care coach and a narrative coach. I will not, ever, contribute to the harsh critiques and creativity-crushing dismissals that every writer has faced in their journey.
Your voice – creative, academic, poetic – has value. I frame my edits with an awareness of the impact words can have. You are a writer. Your writing has value. We enter our editor-writer contract with that as a fundamental and irrefutable fact.
Text Review
Comprehensive review of the text

Compassionate commentary on what works, what is effective, what works less well, and what could be changed to improve the text
Basic Copy Editing
Correcting spelling, grammar, and punctuation.

Correcting incorrect word use (the dreaded affect/effect!)

Checking consistency in spelling, hyphenation, fonts, capitalization, and numerals

Commentary to highlight conflicting statements

Commentary to highlight what works well and is effective
Substantial Editing
All basic copy editing

Formatting for structural consistency (Correcting things like capitalized headings over here, italics over there)

Checking for consistency in vocabulary and terms

Checking for continuity of plot, setting, and character, and commentary to highlight inconsistencies

Smoothing out the authorial voice in a text with multiple authors

Commentary with suggestions for improving flow and readability

Commentary with suggested solutions for noted issue
Academic double feature (editing and research checking)
All basic and substantial copy editing

Formatting for academic citation style (MLA, APA, etc.), including:

Parenthetical citations

Title page and header/footer, if required

Bibliography

Optional research assistance prior to editing (available in English, Sociology, Gender Studies, Media Studies, Queer Theory, Feminist Theory, Trans Theory, Disability Theory):

Bibliography review

Assistance finding additional sources

Consultation on cohesiveness and internal integrity of the theory

Consultation on structure and persuasiveness of the text
"Thorough, professional and reliable, with a good eye for detail and a good ear for tone, Tiffany is an excellent editor. Friendly, insightful, and adaptable – I highly recommend them and their work. I happily use them for my editing needs."
"Tiffany was a kind and approachable editor and their comments were clear and comprehensive. Once we found a mutually workable time to work on the project they turned edits around fast and were easily reachable for follow-up questions."
"Writing a thesis can be a very stressful and consuming process. Tiffany was nothing short of a miracle worker, and her editing was vital to the successful completion of my thesis. My thesis was accepted as is and the chair of my department asked me how many editors I had because my thesis was flawless; two rare accolades in my department!
My lengthy thesis was multidisciplinary and not the standard format but this not deter Tiffany at all. She clarified expectations beforehand, took it upon herself to do research in order familiarize herself with my topic, and still managed to meet my strict timeline and stay within my modest budget. Her attention to detail and knowledge of formatting styles was unwavering.  Her comments were specific and clear and often provided tips and suggestions to help me clarify arguments and weave my thesis together as a whole. Highly recommended!"
Frequently Asked Questions
Do you offer discounts?
Yes! Accessibility is important to me. If finances are a concern for you, you can always email me to discuss options.
Additionally, every time you attend one of my writing workshops or sign up for an online writing workshop, you receive 5% off editing services. These can be stacked, up to 75% off a single service.
Do you work with new writers?
Yes! I know how hard it is to complete a project – whether it's a poem, picture book, novel, essay, article, or dissertation or book. If this is your first major project, having a compassionate but keen editorial eye can make a huge difference. I am happy to work with new writers to support your narrative journey!
What academic citation styles are you experienced in?
As an English and Gender Studies grad, MLA is my most familiar citation style. However, I'm also skilled with APA, and have edited manuscripts using Chicago Manual of Style or an individual professor's preferred style (as long as the style guide is included).
Will you edit an academic paper without doing any research?
Yes. The hourly price remains the same, but the work will take less time.
I can give you an estimate for how long your academic text will take once you send me the word count, an idea of the content type, and a sample of both text and bibliography. From there, I can determine how much editing and formatting will be involved, and will send you a quote.
A 5-8-page undergrad paper in English, Humanities, or Sociology, for example, could take as little as 45 minutes if there is not substantial formatting involved, or as much as 2 hours if there is significant formatting and editing.
Are you a published writer? Has any of the work you've edited been published?
Yes, and yes.
You can find my work in quite a few places on the internet, and I co-authored a chapter in the 2016 Routledge Companion to Global Popular Culture, based on research during my undergrad at the University of Calgary.
I have also edited multiple academic monographs that have been published, and multiple papers that have been published in peer-reviewed journals. (My favourite is ""I'm in Neuroplastic Heaven": Putting the Dollhouse in the
Context of Modern Neuroscience," published in the summer 2016 edition Slayage. Link shared with the author's permission.)
I'm looking forward to working with you!