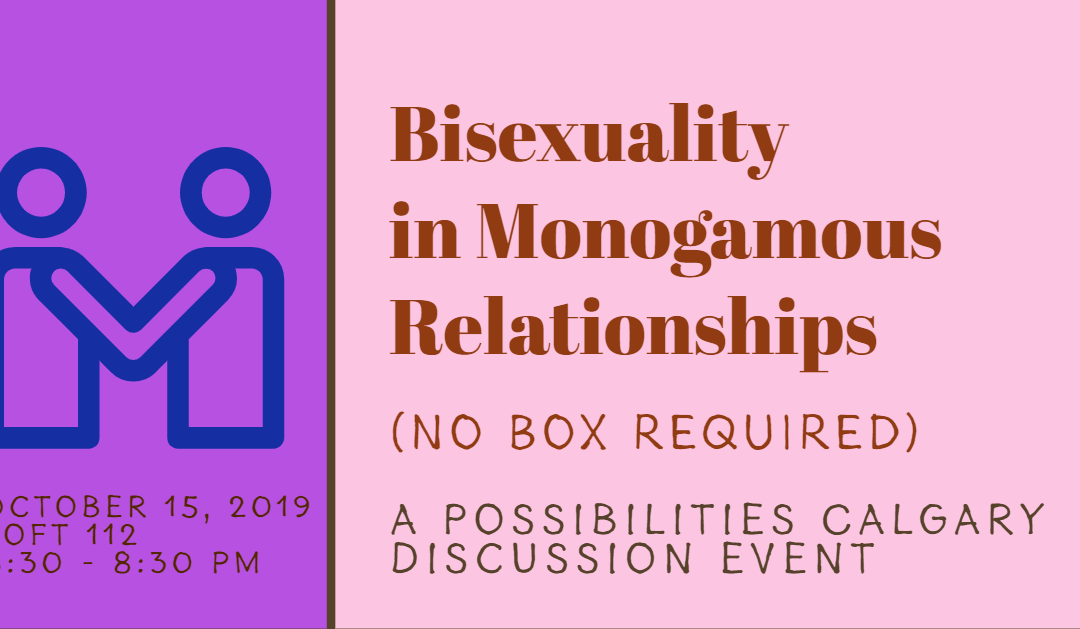 Join us on October 15 for a discussion of navigating bi+ orientations (bisexuality, pansexuality, asexuality, and two spirit) in monogamous relationships.
This conversation will build on our earlier discussions about sharing our identity within existing relationships, and will focus specifically on how we navigate this experience within monogamy.
This is an important conversation because so many dominant narratives of bi+ identity place it in opposition to monogamy, or position bi+ identity as a threat to monogamy or monogamous relationships. These narratives can make it difficult for people to navigate discussions of bi+ orientations.
Many Possibilities participants are, or are interested in, polyamory. That's awesome, and always welcome at our events! However, for this event we will be centering the experiences and stories of folks who are in monogamous relationships where one or both are bisexual, pansexual, asexual, two spirit, or otherwise non-monosexual.
There is no cost to attend this facilitated conversation.
You can support the event by either donating at the event or by backing the Patreon at www.patreon.com/sostarselfcare.
We have a focus on community care and narrative discussions for the bi+ community (bisexual, pansexual, asexual, two-spirit, with an intentional focus on trans inclusion).
This is an intentionally queer, feminist, anti-oppressive space. The discussion is open to all genders and orientations, as well as all abilities, educational levels, classes, body types, ethnicities – basically, if you're a person, you're welcome!
We often meet at Loft 112, which is wheelchair accessible through the back door, and ASL interpretation can be arranged. If you require ASL interpetation, please let me know asap so that I can make arrangements.
These discussions take place on Treaty 7 land, and the traditional territories of the Blackfoot, Siksika, Piikuni, Kainai, Tsuutina, and Stoney Nakoda First Nations, including Chiniki, Bearspaw, and Wesley First Nation. This land is also home to Métis Nation of Alberta, Region 3.
It is important to note that Possibilities Calgary is a community discussion group and not a dating group.